Le Paon Qui Boit – France's alcohol-free pioneers 
17 October 2022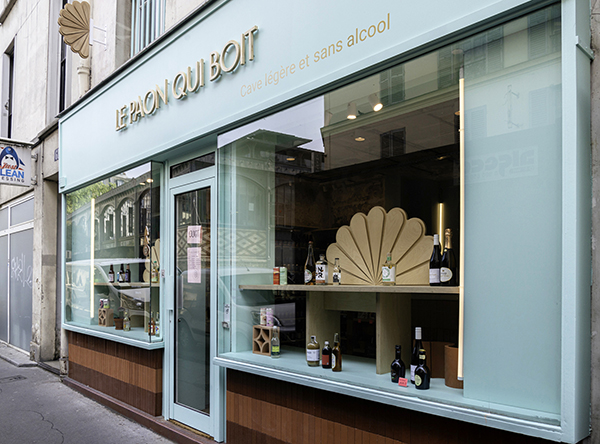 There's no shortage of things to do in Paris. But now, alongside the Eiffel Tower, the Louvre and strolling along the Seine, can be added a visit to France's first non-alcoholic drinks shop.
Le Paon Qui Boit was opened this summer by the affable Augustin Laborde, and two obvious questions stand out: firstly, how has it gone down with the famously (and proudly) booze-loving French, and secondly, what's the story behind the name, The Drinking Peacock?
Laborde chuckles. 'It's because in order to retain their perfect tail-feathers, peacocks have to drink very clean liquid,' he explains. 'So if they wanted they could drink here.'
As for the locals? Reaction has moved from surprise through curiosity to relief.
'People say "Wow, I didn't realise you could get wine and whisky without alcohol",' says Laborde. '"Finally there is something like this for me".'
The customer base covers a wide demographic, from practising Muslims and retirees who are unable to drink for health reasons to pregnant women.

But the core of the visitors are 30-40 year old 'bobo's' – healthy, active locals with a good income who are actively seeking a healthier lifestyle and see the selective renunciation of alcohol as part of that.
'They want a change from time to time,' explains Augustin. 'To try something different without losing anything in terms of taste or pleasure.'
Augustin himself currently doesn't drink. 'I lived in Muslim countries for a while, like Egypt and Afghanistan and I realised that you can live without alcohol and have social events,' he says. 'I didn't digest alcohol well – didn't sleep well – and once I gave it up I felt much better and didn't miss it at all. Maybe I will drink again one day, but I can't see it happening soon.'
Even product split
Le Paon is split, broadly, into four parts, selling spirits, beers, wines and quality soft-drinks, such as artisanal ginger beer. Initially the beers and soft drinks took up the majority of the sales, but that is changing.
'People were familiar with [those categories], so that was the easy way to start sans alcool,' says Augustin. 'But now wine is increasing a lot.'
Volume-wise, the majority of sales are beer, but in terms of revenue it's more or less an even four-way split. 'I want to keep that,' says Augustin, 'I want people to try all the four different parts of the shop.'
At the moment, there is still a huge educational job to be done. Less so with beers and soft drinks, perhaps, but definitely for the wines, spirits and cocktails.
'People always want to know how it's made, what it tastes like, whether it's similar to the alcoholic version,' says Augustin.
'We are the very beginning of a new fashion, so we have to explain everything.'
Expansion of activities
Having engaged, knowledgeable and enthusiastic staff is absolutely key to the store's success, as is getting liquid on lips. Free weekly tasting sessions are proving a big hit with the locals, but Augustin hopes to expand into events, too: weddings, baby-showers, catering at parties for groups who don't drink.
| | |
| --- | --- |
| | |
| The interior of Le Paon has a cool distressed industrial vibe | Having knowledgeable staff - such as Maud and Agustin - is key |
If the project continues to grow, there are dreams, too, of a second shop in another French city.
Currently Le Paon has around 300 products on its shelves, from 30 different suppliers. But the only thing preventing there being more is space.
'If I had more square metres I could have 400, 500 products,' says Augustin.
It is, he believes, proof of an industry that is surfing a huge wave of both innovation and popular interest.
'I wouldn't have been able to open this shop two, three, four years ago,' he says. 'In five years there will be more shops like ours in other cities than Paris, and bars and restaurants will have a great offering of sans-alcool that isn't soft drinks.
'We're just at the beginning…'