How to create a world-beating drink (by someone who has)
14 December 2022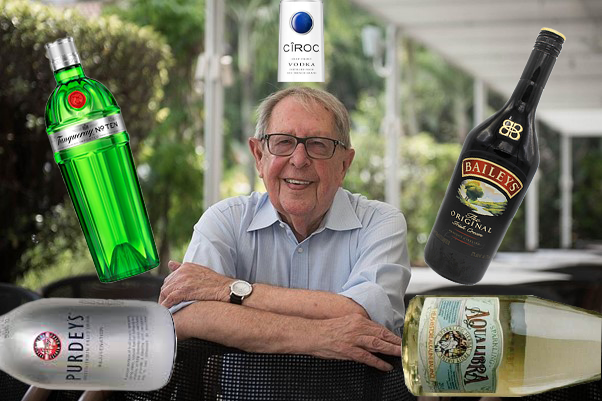 David Gluckman is the man behind some of the most famous drinks in the world. You may well not recognise his name, but you'll for sure have heard of his creations.
Baileys? That was him. Tanqueray Ten, ditto. Also Ciroc, Aqua Libra, Purdeys, Sheridans, Le Piat d'Or, Smirnoff Black… we could go on.
Gluckman's story is told in his book – That Sh*t Will Never Sell.
It's a brilliant read. A frank, funny and light-footed look at his career in the world of drinks; a fascinating view into a different time (1970s onwards), but also into the creative and commercial process involved in giving birth to products that went on to become global icons – and some that didn't.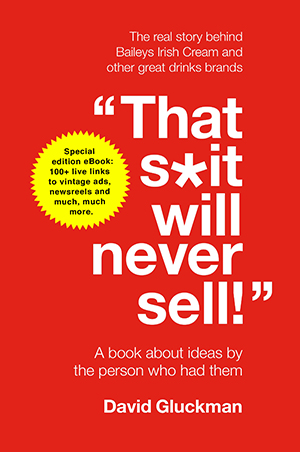 The book is available on Amazon, and it's worth buying it just for the story about how he and his partner created Baileys. We won't give the full spiel here – there are so many brilliant elements it deserves to be read in full.
But essentially, with a deadline approaching and nothing to present to a client who wanted an Irish whiskey drink, they popped to the corner shop down the road from their office, picked up some cream, Jamesons and cocoa powder and threw it into a bottle.
It was the start of a multi-million dollar brand – but also the genesis of an entire new category: cream liqueurs.
This kind of Eureka moment will, we're sure, resonate with quite a few of our readers, since the alcohol-free sector is giving birth to new products and new categories at a frankly astonishing rate.
So what can the starry-eyed creators of AF spirits, craft beers, RTDs etc learn from a man who's been there, done it and got the T-shirt.
Accessibility for all
Firstly, it's obvious that Gluckman is a fan of drinks that are accessible to as many people as possible. One of the reasons he's so proud of Le Piat d'Or is that he was creating 'a French branded wine that will appeal to the mass market rather than to these posh folk who drank Chateau Latour.'
Ordinary people, he reasoned, weren't interesting in comparing nuances of vintage – they just wanted something consistent. The definition of smooth and accessible, it's not an exaggeration to say that Piat brought an entire generation into drinking wine who had never done it before, and paved the way for Oddbins, Australia, Chile and the rest.
That said, he remains sceptical of alcohol-free wine, seeing more potential in low-alcohol.
'You've got something [at 5% ABV] to provide the depth and body,' he reasons. 'I think [low-alcohol] is a really good idea and it's probably a lot more achievable.'
Though, having said that, he can see the potential of wine alternatives. 'If you put something that's red in a wine bottle, people are gonna assume it's wine. And if you want to put a whole lot of stuff in, just to simulate the taste of wine, why not?'
Eyes on the price
As you might expect for a South African with decades of industry experience under his belt, Gluckman is not short of forthright opinions. And that interest in accessibility shows itself in his thoughts on pricing – particularly for alcohol-free spirits.
'The [alcohol-free] market is about-face,' he says bluntly. 'People are starting with [expensive] spirit and then working their way down.'
A market where all the brands take on the Seedlip pricing model is, he points out, probably not the way to build critical mass in the category.

'When I first bought it, it cost me £28,' he says. 'I don't want to be suckered in by the bullshit of the ritual.'

Gluckman questions everyone following the Seedlip model
By contrast, when he created 'functional' soft drinks such as Aqua Libra and Purdeys they 'started from the bottom up, not the top down. That's the big mistake everybody's making.'
Of course, it's easier to start from the bottom up if you have the world's biggest drinks company behind you to help manufacture and distribute what you're creating – Gluckman worked for Diageo for decades.
But he has a point.
However beautifully packaged and finely crafted, it's harder to pull in moderating (as opposed to sober) drinkers if everything is as expensive as an alcoholic craft gin.
Getting the narrative right
He's also intriguing on the issue of what story is most going to help a brand to sell. Many drinks brands – certainly alcoholic ones – tend to focus on ingredients or production techniques as their USP. And Gluckman thinks this is wrong.
'I'm a great believer in the benefit [to the consumer],' he says. 'If somebody comes along and says, Hey, this thing's been distilled five times or it's hand-crafted, it's meaningless for them. I hate process words.'
Tanqueray Ten, for instance, has a process story – it's the first gin to be distilled with fresh fruit, rather than dried.
'That's a lovely story as a background, but that's the process,' explains Gluckman. 'What's in it for you? It's got a cleaner, fresher fruitier taste.'
Follow your heart, Luke
He's not a fan of market research – 'I hardly ever do it' – preferring a strong vision and self-belief and encourages boldness of ambition over middle of the road safety.
He illustrates his point by musing about creating a Sour Cola.
'If I were competing with Coke, I'd try to be the same, but as different as possible,' he says. 'So therefore, by being the same, I'd say I'm a cola. But by being different, I'd say I'm a sour cola.
'I might be appeal to 5% of coke drinkers. But that's a billion dollar market, so it's worth going for.'
So there you have it: be bold, be creative, be accessible and focus on the benefits to the consumer.
And if that doesn't work, you could always mix products at random from the local corner shop until you hit on something.