2023 medal winners revealed!
31 March 2023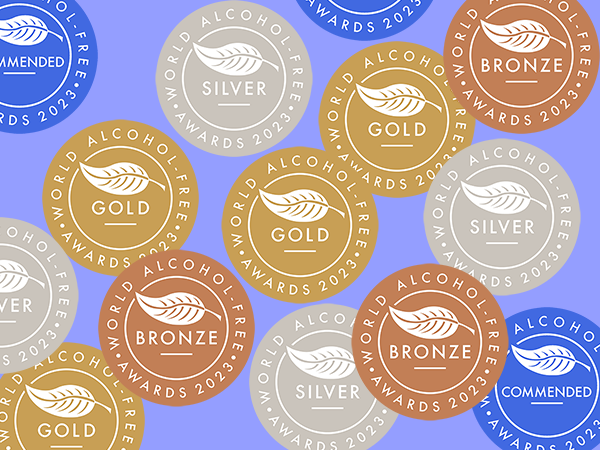 In a landmark event for the world of AF, the results from the first ever World Alcohol-Free Awards have gone live today.
From March 31st, producers, retailers, influencers and importers all round the world will now be able to check out the medals, to see which products have picked up the top awards.
'This is the first international drinks competition completely dedicated to products at or below 0.5% ABV,' said competition director, Chris Losh. 'So these results should resonate throughout the whole AF world, from Sydney to Singapore and London to Los Angeles.'
Judging took place in central London earlier this month, with specialist AF tasters from Europe and the US joining UK panellists to work their way through the hundreds of entries.
The competition's total focus on alcohol-free drinks made for a uniquely specialised entry and tasting process, with all entries carefully flighted according to ABV, production method and style. Spirits were given a choice of being tasted with one of four mixers, and wines, wine alternatives and kombuchas were tasted out of larger wine glasses, rather than ISOs.
In a highly rigorous judging format, medal-winners were tasted up to a dozen times by judging teams, senior judges and head of judging, Chrissie Parkinson.
'Make no mistake, this was a really tough process,' said Chris Losh. 'Drinks had to impress a lot of people to get an award. So if you've done well you owe it to yourself to tell the world about what you've achieved.'
As well as wines, spirits and beers, the competition also included strong entries from tea-based drinks, shrubs and functionals.
'We had winners from every corner of the globe, and in an amazing array of styles,' said Chrissie Parkinson. 'It really goes to show what a vibrant and exciting category alcohol-free is at the moment.'
The results are viewable on the competition's website, www.worldafawards.com. Entrants can access their personal results via their entry dashboard, where they may also download digital medals and place orders for bottle stickers.